The Art of Racing in the Rain
By Garth Stein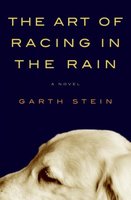 Enzo knows he is different from other dogs: a philosopher with a nearly human soul (and an obsession with opposable thumbs), he has educated himself by watching television extensively, and by listening very closely to the words of his master, Denny Swift, an up-and-coming race car driver.
Through Denny, Enzo has gained tremendous insight into the human condition, and he sees that life, like racing, isn't simply about going fast. On the eve of his death, Enzo takes stock of his life, recalling all that he and his family have been through.
A heart-wrenching but deeply funny and ultimately uplifting story of family, love, loyalty, and hope, The Art of Racing in the Rain is a beautifully crafted and captivating look at the wonders and absurdities of human life … as only a dog could tell it.
Where'd You Go, Bernadette
By Maria Semple
Bernadette Fox has vanished.
When her daughter Bee claims a family trip to Antarctica as a reward for perfect grades, Bernadette, a fiercely intelligent shut-in, throws herself into preparations for the trip. But worn down by years of trying to live the Seattle life she never wanted, Ms. Fox is on the brink of a meltdown. And after a school fundraiser goes disastrously awry at her hands, she disappears, leaving her family to pick up the pieces–which is exactly what Bee does, weaving together an elaborate web of emails, invoices, and school memos that reveals a secret past Bernadette has been hiding for decades. Where'd You Go Bernadette is an ingenious and unabashedly entertaining novel about a family coming to terms with who they are and the power of a daughter's love for her mother.
The Good Liar
By Nicholas Searle
Roy is a conman living in a small English town, about to pull off his final con. He is going to meet and woo a beautiful woman and slip away with her life savings. But who is the man behind the con? What has he had to do to survive a life of lies? And who has had to pay the price?
When Roy meets a wealthy widow online, he can hardly believe his luck. Just like Patricia Highsmith's Tom Ripley, Roy is a man who lives to deceive—and everything about Betty suggests she's an easy mark. He's confident that his scheme to swindle her will be a success. After all, he's done this before.
Sure enough, Betty soon lets Roy move into her beautiful home, seemingly blind to the web of lies he's woven around her. But who is Roy, really? Spanning almost a century, this stunning and suspenseful feat of storytelling interweaves the present with the past. As the clock turns back and the years fall away, long-hidden secrets are forced into the light. Some things can never be forgotten. Or forgiven.